Welcome to the After Wiki
The After Wiki contains spoilers about the book and film series, read at your own risk.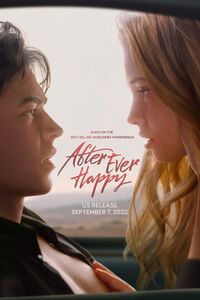 AFTER follows Tessa Young, a dedicated student, dutiful daughter, and loyal girlfriend to her high school sweetheart, as she enters her first semester in college. Armed with grand ambitions for her future, her guarded world opens up when she meets the dark and mysterious Hardin Scott, a magnetic, brooding rebel who makes her question all she thought she knew about herself and what she wants out of life. In the fourth and final installment of the AFTER series, Hardin and Tessa are growing up and they may never be the same. Although they have defied all the odds, their next chapter will bring either a fairy tale ending or finally destroy their passionate yet toxic relationship. When a revelation about the past shakes Hardin's impenetrable façade to the core—and Tessa suffers a tragedy—will they stick together or be torn apart?
After We Fell, starring Josephine Langford and Hero Fiennes Tiffin, is available on DVD and digital now. The fourth and final installment in the After series, After Ever Happy, premieres in the United States on September 7, 2022.
Film Series
Characters
Book Series
After Series
Graphic Novels
Landon Series
About
We are a collaborative database for the worldwide phenomenon, After. Whether you're looking for information on the book series or films, the After Wiki is the #1 database that anyone can edit. This format allows everyone to create and edit articles so that together, we can build a complete encyclopedia for all Afternators!
Sign up for a free account and start editing today, or join our Discussions to connect with other fans!
Social
News