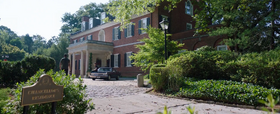 The Chancellor's residence is a house in Washington, USA that is home to the. It serves as the off-campus housing for the Chancellor of Washington Central University. Chancellor Ken Scott currently resides in the home alongside his wife and stepson.
History
[
]
When Ken Scott was appointed Chancellor of Washington Central University, he was able to move into the lavish home that is best described as a mansion. He was soon joined by his fiance and later wife, Karen, as well as her son, Landon. While Ken's son Hardin does have a room in the home, he rarely stays with his father and instead lives on-campus.
Film Series
[
]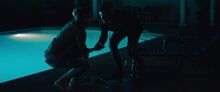 The house is first seen when Tessa Young visits the home upon Landon's request. He hoped that she would be able to calm down Hardin, who arrived earlier that evening in an explosive manner. She visits Hardin out by the pool at night, which is dimly lit from a few lanterns. The duo eventually goes inside where he tends to her cut finger, though they migrate to a couch where they fall asleep together.
A few weeks later, Hardin attends his father's wedding party alongside Tessa, his now girlfriend. The couple are greeted by Landon and ushered outside where the rest of the party is being held. Most of the party is hosted near the pool, which has a dance floor covering it for the evening. They pool area is well decorated with lights and tables that are covered in white cloths. The event is sophisticated and high-end. Tessa also meets Karen Scott, Hardin's new stepmother.
Residents
[
]
Trivia
[
]
Gallery
[
]
References
[
]