Jurassic World: Dominion Dominates Fandom Wikis - The Loop
Play Sound
This article is about the film character. You may be looking for the book character.
Christian Vance is a character in the After film series. He is portrayed by Charlie Weber, and later, Stephen Moyer.
Christian is the owner of a successful publishing company in Washington. He is also the only the father of Smith and the recent fiance of Kimberly. Vance is also rather close to Trish Daniels, his longtime friend.
Background
[
]
Christian was friends with Ken Scott and Trish Daniels at some point in his life. When Trish and Ken separated, she and her son Hardin stayed with Christian for a few years. When they returned to their home, Christian went to America where he launched his publishing company, married a woman and had a son, Smith.
He had a workplace relationship with his secretary, Kimberly. The relationship was strictly platonic due to Christian's marriage. When his wife died, Kimberly began to help Christian care for his son, Smith. As she grew closer to the family she and Vance developed a romantic relationship and have been together for a few years now.
In 2018, Vance hired Hardin Scott as an intern at Vance Publishing, however, Hardin left the company for unknown reasons.
Film Series
[
]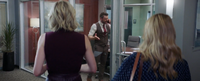 Vance paces his office while in a heated conversation with someone on the phone. His assistant, Kimberly, goes to introduce the company's newest intern Tessa Young to Vance, only to hear him shout an expletive at the person on the phone. She decides this is a bad time and leads Tessa away. Vance angrily yanks open his office door and shouts for Trevor who quickly responds that he's on it.
The next day, Tessa awakens at her desk, having fallen asleep while working the night before. She sees Vance sitting opposite her with his feet on the desk. She lurches up and realizes that it's morning and is concerned she's been fired. He tells her to sit down and then asks if she really read five manuscripts the night before and questions why she liked one of them. She begins to defend her reasonings when he answers a phone call. He interrupts her and tells her to follow him as he leads her outside to a van that they climb into. Waiting in the van are Kimberly and Trevor. Vance explains to a confused Tessa that he has a potential investor, Neal, who they have to win over in order to finance the next branch of Vance Publishing in Seattle.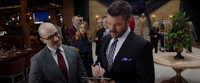 When the group arrives at the hotel, Vance leads the way in where he is greeted by a hotel manager who assures him that they fulfilled his accommodation of having a printer in Trevor's room. However, Tessa's room wasn't ready on time so they upgraded her to a suite compliments of the hotel, of course. Vance recommends that Kimberly take Tessa shopping for a dress for that night, to which Kimberly happily obliges. That evening, while talking to Tessa, Kimberly explains that she and Vance are more than co-workers and have been for a few years since Vance's wife died.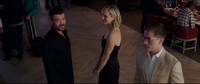 Vance, Kimberly, and Trevor wait for Tessa to join them in the lobby. When she does, Trevor comments that she cleans up nice, which Vance finds amusing as Trevor "sure knows how to charm the ladies". He then tells Tessa she looks nice and, with his hand on Kimberly's back, leads the way to the nightclub. He and Kim dance together at the club while Neal socializes with Trevor and Tessa. The next morning, he and Kim join Trevor and Tessa in the hotel lobby where he delivers the good news that Neal wrote them a large check to help finance the expansion. He congratulates them on having done a good job as he leaves the lobby with his arm around Kim's shoulders.
On New Years Eve, Vance calls Tessa to ask why she isn't at work which causes her to panic as she thought she had the night off. Vance laughs happy to have messed with her a little. He then tells her that with the Seattle branch funded, Vance and Kim plan to move to Seattle until things are settled there. He wants to bring Tessa with them in a permanent position at the company. He will pay for her schooling, living expenses, and anything else she needs. She is surprised by the offer and asks if she can think about it, to which he is a little surprised but agrees and wishes her a happy new year before hanging up.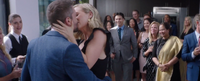 A few weeks later, he and Kimberly host a going away party which they invite Hardin and Tessa to attend. Vance gives a toast thanking Kim for being supportive of his endeavors with the company. He states that earlier that week he was talking with Smith, who told him that going away parties are sad and he agreed so they came up with a way to turn the night into a celebration. He whispers into Smith's ear and the boy walks toward Kim who is across from them, and drops on one knee asking her to marry his dad and become his stepmom. Kim is elated and proclaims yes as she hugs the boy close. After a few moments, Vance jokingly asks where his hug is and she hurries to him to give him a hug and kiss.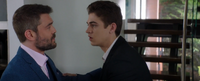 After the engagement, Hardin Scott tries to follow Tessa in an attempt to talk with her. However, he loses her when he descends the staircase. He is immediately greeted by Vance who puts his hands on Hardin's shoulders and tells him that Tessa went out the front but he has to hurry if he's going to catch her. Hardin thanks him before running off after Tessa. Vance watches him leave with a peculiar look on his face.
Physical Appearance
[
]
Christian is an attractive man in his forties, with dirty brown hair and dimples. He has hazel eyes and a tall, athletic build with trimmed facial hair. He has a strong build and dresses fashionably in high-end clothing that reflects his status as a wealthy man.
Personality
[
]
Vance is an intense businessman who expects the best out of those around him. He is witty and sarcastic, but can also be friendly and welcoming. He has a short temper, being prone to outbursts when people don't follow through on promises. These outbursts cause Kimberly to avoid him when they occur. Vance is intelligent and has a love for books that helped launch his desire to be a book publisher. He has a head for business, which is evident due to how his company excels.
Relationships
[
]
Kimberly: Vance and Kimberly are involved romantically and are in a serious relationship. They met when Vance hired Kimberly as his receptionist at Vance Publishing, though their relationship was strictly platonic since he was happily married with a young son. When Vance's wife died, Kim stepped in to help Vance care for Smith and handle the company. This eventually led to a romance between them. He proposed to her through Smith, who asked her to become his stepmom. Kimberly was elated to accept and she kissed Vance happily.
Notes and Trivia
[
]
Gallery
[
]
References
[
]