We're Getting Mutants in the MCU - The Loop
Play Sound
This article is about the novel character. You may be looking for the film character.
"
After everything, we made it. Whatever the hell our souls are made of, they are the same.
"
Hardin Allen Scott is a fictional character from the After series written by Anna Todd.
A tortured and damaged soul with a complex past, Hardin was sent to America by his mother to attend university in the hopes a change of scenery would rehabilitate himn. Hardin's time in America was mostly spent with rowdy college students who abused alcohol and drugs, or with women who meant very little to him.
When he encountered the feisty freshman Tessa Young, his interest was peaked by her studious and reserved manner yet witty comebacks. He began to share his love for literature with her, but his sardonic and often abusive dialogue toward her did more harm than good. Their relationship was fast-paced and vibrant, sweeping them and everyone around them up in a whirlwind of drama. When Hardin's cold and uncaring past caught up to him, it tore his relationship with Tessa apart, as the bet he made to take her virginity was revealed.
For the first time in a while, Hardin felt remorse for his actions and wanted to make things right with the girl he had begun to love. In the meantime, he reconnected with his distant father, Ken Scott, who was desperate to form a relationship with Hardin. Hardin's new stepbrother, Landon Gibson, proved to be a good friend and brother once Hardin let him into his life. The arrival of his mother, Trish, brought Hardin and Tessa back to one another. Tessa reluctantly agreed to be romantically involved with him again. While things were better, their relationship continued to be tested by secrets and lies from both of them. As Hardin continued to evolve and change into a better person, he was set back by the reveal of his biological father.
Thrown into a tailspin, Hardin leaned heavily into drinking and burned his childhood home to the ground in a fit of emotion. With the reveal of not only a new father, but a soon-to-be stepmother, and a half-brother he never knew, Hardin pushed Tessa away and tried to bury his emotions. After weeks of partying in an attempt to numb his pain, Hardin learned of the tragic overdose and death of Tessa's father. This prompted him to return to America where a traumatized Tessa refused to let him help her. This was a dark period in both of their lives and prompted Hardin to make the necessary changes to better himself. After agreeing to take a break in his relationship, he graduated from college and attended therapy. He became sober and, after a few years, began to better himself mentally.
He dated one woman during this time frame but they weren't serious. Hardin became a better brother to Landon, as well as his newly discovered half-brother, Smith, and newborn half-sister Karina. He began to improve his familial relationships, as he now had two families that held nothing but love for him. While Hardin remained the witty and sarcastic boy he'd always been, the changes he had made in his life were evident. Hardin and Tessa eventually found their way back to each other and became engaged. Over the next several years, they moved in together and went through the struggles of trying to start a family. He became an accomplished author of a series of books based on his difficult life and an advocate for mental health. Hardin became a doting partner to Tessa, a compassionate and caring father to his daughter Emery, and later, his son Auden. While the road to their happily ever after was rough, he achieved that life with Tessa.
In the film adaptations, Hardin is portrayed by British actor, Hero Fiennes-Tiffin.
History
Early Life
Hardin was the product of a year-long affair between Trish Powell and Christian Vance, the best-friend of Trish's husband, Ken Scott. When Trish found out she was pregnant she lied and said the child was Ken's. However, the conception date did not line up with Ken's visits home. Christian suspected that Hardin was his son, and tried to get Trish to admit it, but she never did. She never told Ken of her affair. Hardin Allen Scott was born on February 5th, 1993, in London, England. He had a rough childhood due to his negligent, abusive and alcoholic father, Ken. Ken was always at a bar after work, and he and Trish both worked long hours. Hardin was abused for years and always inclined that Ken had left bruises on Trish's arms.
Around the age of eight, Hardin witnessed his mother being raped and beaten by a group of soldiers because Ken had smashed a beer bottle over one of the men's heads. The traumatic event resulted in reoccurring nightmares that continued into his adulthood. Ken left Trish and Hardin soon after and left Trish to be the head of the family. Trish was negligent with Hardin because she spent most of her hours working to make sure they had food on the table. After Ken left the family, his best friend, Christian Vance, bought Hardin novels and would read to him. This is what influenced Hardin's love of books. He grew up respecting Vance but had a complex relationship with him during his teen years.
Hardin, in response to his father's negligence, began to rebel as a young adult and teenager. He participated in fights, drugs, alcohol abuse, criminal activities, and bullying. He didn't respect women and used them as pieces for games and sexual pleasure. He hardened emotionally eventually being unable to say "I love you" to his mother. When Hardin was roughly eighteen, his mother reached a breaking point with him. She sent him to the United States for college at Washington Central University, where Ken was the chancellor.
Early Adulthood
Hardin started college at Washington Central University in August 2011. He majored in English literature and joined a fraternity so he wouldn't have to live with his father.
He became friends with a group of people with similar emotional issues: Nate, Steph, Zed, Molly, Jace, Dan, Logan, and Tristan. He continued the pattern he left with his friends in England, in the States with his new friends. He worked as an intern at Vance Publishing for a while until he got a better job offer doing the same but working from home. At the end of his second year, he stopped drinking.
Despite his reckless behavior, he managed to stay a year ahead in credits for his degree. In his third and final year of college, he meets a freshman named Tessa. He and his friends made a bet involving Tessa but it got complicated for Hardin, as he surprisingly found himself developing an emotional attachment to her in the process of predatorily grooming her to be used, abused, and exploited. They embarked on a toxic, emotionally abusive relationship due to Hardin's unprocessed emotional trauma and Tessa's savior complex.
He also attempted to have a relationship with his father and the rest of his family, under the influence of Tessa. He discovered that his biological father is Christian Vance and that Vance's son, Smith, is his biological half-brother. Hardin also formed a friendship with his stepbrother, Landon, who is also Tessa's best friend.
After much pain and tragedy, Hardin and Tessa decided to take some time apart to deal with their issues. Tessa moves to New York with Landon while Hardin stayed behind in Washington. During this time, he became friends with Luke and Kaci. He healed his relationship with his family and sought counseling for his issues and trauma. His secret work is recognized and he becomes a successful writer, philanthropist, and mental health advocate.
Late Adulthood
In the future, he works as a freelance writer. It is undisclosed in the books if Tessa and he ever marry, but they live together in an apartment in New York. They have two children: a daughter named Emery and a son named Auden. Despite all the bad things he has gone through, he ends up happy.
Personality
"It's ironic really, that the man who hates the world is most loved by it."
—Tessa about Hardin in After We Fell
Hardin is very charming, crude, mean, and sarcastic. He is the typical bad boy. Before Hardin met Tessa, all he cared about was feeding his ego and meeting his sexual needs. He did many horrible things to women and had no empathy for his actions affected them. He struggles with rage and lashing out verbally and physically when triggered. Behind his cocky and hard exterior, Hardin is deeply insecure and hurt. Hardin is introverted and prefers solitude. He could hide for days and then leave his hiding place on weekends to attend parties. However, he never enjoyed parties, stating that he only attended because there was nothing else to do but waste time in college. Hardin prefers to live in the moment. He does not overanalyze things or plan for the future. Despite his dysfunctional lifestyle, Hardin is very intelligent and does not need to put a lot of effort into school to do well. He often skipped classes but still managed to graduate a year earlier.
After Hardin and Tessa broke up and he took the time to work on himself, he became a healthier person and an advocate for those who suffered like him. He is a patient, caring, and kind man who dotes on both his children. He has become calmer and quieter with age.
Physical Appearance
"My eyes shift to the tall brown-haired boy leaning against the wall. His hair is a mop of thick waves on his head, pushed back off his forehead, and he has metal in his eyebrow and lip. My focus moves down his black t-shirt to his arms, which are also covered in tattoos; not an inch of uncovered skin is seen. Unlike Steph's and Nate's, he appears to be all black, gray, and white. He's tall, lean, and I know I'm staring at him in the most impolite way, but I can't seem to look away."
- Tessa Young (After, page 9)
Hardin is described as an attractive, white, British man with dark hair and green eyes. After removing his facial piercings, Hardin has a small scar above his eyebrow and just below his lip. He wore his lip ring off and on for a few years, before finally opting to take it out. As he grew older, his tattoos faded and he had to have them retouched.
Significant Relationships
Familial
Holy shit. This strange little specimen of a kid is my fucking brother. I absolutely can't wrap my head around it. - Hardin's thoughts about Smith in "After Ever Happy"
And when it comes to Landon, well, I'll never admit it, but I sort of need him to be my friend. I have none, and I kind of need him, in a way. A little. A lot. I need him a fucking lot, and except for Tessa, I have no one else. I can't lose him, too. - Hardin about Landon in "After Ever Happy"
Romantic
Friendships
Antagonistic
The After Film Franchise
Main article: Hardin Scott (Film Counterpart)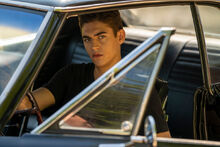 Hardin is portrayed by British actor Hero Fiennes Tiffin in the After film series. Hardin is quite different from his novel counterpart in terms of familial background and history. The characters are quite similar in terms of personality, although with some core differences. "Hardin Scott" is the male lead, male protagonist, and the main love interest of the heroine and protagonist, Tessa Young. He remains charming and dangerous like his novel counterpart but has a lighter and kinder tone than his novel counterpart. He isn't as cruel as his book counterpart, who often lashed out with anger and insults toward Tessa. His film counterpart also doesn't have any piercings and has noticeably fewer tattoos, though he gains more throughout the course of the series.
Trivia