Jurassic World: Dominion Dominates Fandom Wikis - The Loop
Play Sound
This article is about Hessa's apartment in the film series. You may be looking for the book location.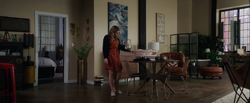 Hardin and Tessa's Apartment is an apartment located near Washington Central University. It is their primary residence when they moved off-campus.
History
[
]
Tessa was cut-off financially from her mother when she disapproved of Tessa's relationship with Hardin Scott. He felt the urge to help his girlfriend and took her to an apartment near campus. She was stunned by the beautiful apartment and open floor plan. He originally told her that it was a friend of his fathers and that the friend was out of town so they could use it. Shortly after, he asked her how she would feel if the apartment was theirs. Tessa hesitated for a moment before agreeing to move in with him.
During a montage, they were seen feeding each other food on the bed. They had sex for the first time in the apartment when they came back from Ken and Karen's wedding. While in a bubble bath, Hardin wrote words on Tessa's back that she tried to guess. His last word was, "I love you", which she still didn't guess. Instead of telling her, he kissed her.
One night, Tessa was reading when Hardin's phone kept buzzing. She stood and picked it up to silence it. She saw text messages from Molly, and confronted Hardin about it. He told her it was nothing and he had to leave. They argued with him asking if she trusted him, to which she responded that she did. He asked what the problem was then and left. She anxiously waited for him to return, sitting at the window seat, then the bed, before finally leaving to find Hardin.
It's unclear which of the pair stayed in the apartment during their one month apart, however, Hardin seemed to be the primary tenant during this time. Tessa returned to gather the rest of her belongings when Hardin arrived with his mother, who had flown in from London. During the time the couple hosted Trish, they rekindled their relationship.
Tenants
[
]
Trivia
[
]
The apartment is presumably in Hardin's name and not Tessa's.
When Tessa broke up with Hardin, she seemingly moved back to campus.
Trish Daniels was the first guest in the apartment.
Behind the Scenes
[
]
The apartment was given a major shift and adjustment for the 2020 film, After We Collided. It has an additional bedroom and slightly different layout than previously seen in After.
One of the things the producers were able to change from the first film was Hessa's apartment. The new set designer was able to redo the apartment so Hessa had a bedroom and the bathroom was readjusted.
Gallery
[
]