This article is about Hessa in the novel series. You may be looking for their relationship in the film series.
Hessa is the romantic and formerly antagonistic relationship between Tessa Young and Hardin Scott. The pair met during Tessa's freshman year of college and had an on-off again relationship ever since. Tessa is often described to be Hardin's light, as she led him out of the darkness, while Hardin pushes her to accept her desires and impulses.
Relationship
[
]
Tessa and Hardin first met when Hardin appeared in her dorm room waiting for her roommate, Steph. They bickered briefly but somehow kept finding their way back to each other. At a party, Tessa fell into Hardin's group where they were playing "truth or dare". When it was Tessa's turn she admitted to being a virgin, something that sparked the group's attention. She was dared to kiss Hardin but stopped the game which took him by surprise. After the party, he seemed to be everywhere she went, and, despite his rough exterior and rude language, she eventually agreed to go with him to a lake.
The two later have two kids in the future and are presumably married.
Throughout the Series
[
]
Relationship Timeline
[
]
Recurring Themes and Symbolism
[
]
Pride and Prejudice: In book one, Tessa stated that Pride and Prejudice was one of her "absolute favorites," and Hardin mocks Tessa's love for Darcy by saying, "If Elizabeth had any sense she would have told him to fuck off". Since then, their relationship and traits can be compared to Elizabeth Bennet and Mr. Darcy. This is perpetuated by Tessa saying, she "didn't know if [Elizabeth] could forgive him, let alone love him." This mirrored the bet incident that began and, at one time, ended their relationship. Hardin later said, "Women want what they can't have. Mr. Darcy's rude attitude is what drew Elizabeth to him … If he loved her he wouldn't have been mean to her." This summed up Hardin's attitude to Tessa and the fact that his rudeness made him interesting to her. In book two, Hardin got a tattoo of a line found exclusively in the movie adaptation of the novel that said, "I never wish to be parted from you this day on". Tessa later gave Hardin an annotated copy of Pride and Prejudice which he loved.
Wuthering Heights: In book one, Tessa wandered into Hardin's room at the frat house and found his extensive collection of classic novels. A recurring quote used from the book is, "Whatever our souls are made of, his and mine are the same." Wuthering Heights was among the novels found on the shelves, and Tessa noted that its pages were worn down due to how many times it had been read. Hardin used Wuthering Heights as a means to discuss his and Tessa's relationship in Professor Soto's class by saying, "Catherine and Heathcliff were just so similar that it was hard for them to get along, but if Catherine wasn't so stubborn they could have lived a long and happy life together." The specter of Heathcliff hangs around Hessa throughout the story. And yet, they remain inexplicably drawn to each other, making Heathcliff-esque Hardin determined that they ended up together.
The Infinity Symbol: The infinity symbol, with hearts on the end instead of loops, is considered to be a symbol of their relationship and is usually associated with them.
Tessa's Bracelet:
Film Series
[
]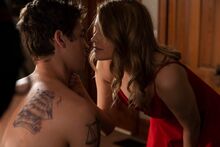 In the After film series, Hardin and Tessa are portrayed by Hero Fiennes-Tiffin and Josephine Langford respectively. Their relationship in the film is toned down drastically than their novel relationship, primarily due to the first film's PG-13 rating. Hardin is a kinder and sweeter version of himself, and the couple is generally less complicated. The couple is currently in a tumultuous relationship, breaking up for a month after Tessa finds out about the bet. The bet was that he could make her fall in love with him, and then, he would break her heart. In After We Collided, they find themselves stuck in a pattern of pain and pleasure, experiencing similar highs and lows in their relationship exhibited in the first film.
Notes and Trivia
[
]
The infinity symbol, where the ends are hearts instead of loops, is considered to be a symbol of their relationship.
Hardin got a tattoo for Tessa that reads, "I never wish to be parted from you this day on.". The tattoo is a quote from the 2005 Pride and Prejudice film.
Hardin is the only person Tessa has ever had serious sexual relations with.
They have broken up and gotten back together over a dozen times throughout the novel series.