Jurassic World: Dominion Dominates Fandom Wikis - The Loop
Play Sound
This article is about the film character. You may be looking for the book character.
Karen Scott is a character in the After film series. She is currently portrayed by Frances Turner and formerly, Karimah Westbrook and Jennifer Beals.
Karen is the welcoming mother of Landon Gibson and the new wife of Ken Scott. Her marriage to Ken makes her the stepmother of Hardin Scott. Karen works to help Ken mend his relationship with Hardin.
Background
[
]
Karen was previously married to an unnamed man and they had one child together, Landon. Their marriage fell apart, so Karen and Landon moved to Washington where she met Ken Scott. They fell in love and became engaged, much to Hardin's chagrin. Karen and Landon moved in with Ken during the engagement.
Film Series
[
]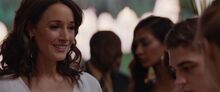 Karen's engagement to Ken Scott, the chancellor at WCU, and the estranged father of Hardin Scott, causes more friction between Hardin and Ken. Hardin isn't thrilled about his father remarrying due to Ken's negative relationship with Hardin's mother. Karen's son Landon Gibson befriends Hardin's girlfriend, Tessa Young, and invites her to the engagement party. Tessa convinces Hardin to attend as well, and they are greeted by the happy couple that evening. Karen presents herself as a kind and warm woman with a desire to make her blended family work. She is doted on by Ken, who speaks highly of her in his reception speech. Karen sits with her fiance and son at the party.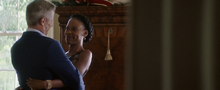 At Christmas, Karen encourages Ken to reach out to his ex-wife Trish, who is town for the holidays. Karen wants Ken to invite Trish to their party. He obliges and reaches out to Trish who accepts, and Karen is proud of her husband for taking the first steps in reconciliation. That night at the party, Karen greets Trish, Hardin, and Tessa at the door with a big smile. She hugs Trish after they are introduced and then hugs Tessa. She watches as Ken and Trish hug for the first time in a decade.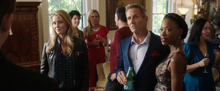 She is by Ken's side the whole night and has an evident care for him. She excuses herself to check on dinner and returns when the meal is ready to serve. She is saddened when Trish has to leave early to catch her flight back to London, and offers to walk the woman out. Trish declines just as Hardin rejoins the group and begins arguing with Ken. Karen is visibly upset that Hardin chose to start something at the party, but stays silent while they argue.
Physical Appearance
[
]
Karen is a tall, slender, and attractive woman with shoulder-length, light brown hair, and brown eyes. She had a distinct nose and thin lips with a gentle way about her. She wore very high-end and classy clothing, preferring a white dress at her reception party. She has a kind and welcoming way about her.
Personality
[
]
Karen is extremely warm, welcoming and very accepting of new people into her life. She is a good mother to Landon and has a warm heart that she extended to Hardin, Tessa, and later Trish.
Relationships
[
]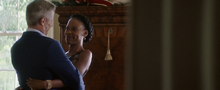 Ken Scott - Karen and her son Landon moved in with Ken during their engagement. She married Ken in "After". She helps him in his desire to mend his relationship with his son and ex-wife. Karen encourages Ken to reach out and invite them to their Christmas party as an olive branch of sorts. She is thrilled when they agree and the pair are seen together and appear very happy together. Hardin even sees several photos of Ken having vacations with Karen and her son, Landon.
Notes and Trivia
[
]
Karen was originally portrayed by Jennifer Beals. The role was recast due to scheduling conflicts and Karimah Westbrook was cast in her place.

However, in 2020, Karimah Westbrook herself had to be replaced by Frances Turner for the final two movies due to scheduling conflicts with her television series, All American where she has a starring role.

Karen has now been portrayed by three actresses, making her the character with the most consecutive recastings in the series.
Gallery
[
]
References
[
]