Jurassic World: Dominion Dominates Fandom Wikis - The Loop
Play Sound
This article is about the film character. You may be looking for the book character.
Kimberly is a character in the After film saga. She is portrayed by Arielle Kebbel, and formerly, Candice King.
Kimberly is the kind and welcoming secretary at Vance Publishing, who forms a strong friendship with company newcomer, Tessa Young. She is also the fiancé of Christian Vance and soon-to-be stepmother of his son, Smith.
Background
[
]
Kimberly has worked for Vance Publishing for several years as an assistant to Christian Vance, the founder of Vance Publishing. She had a workplace relationship with Vance throughout her time at VP and they were friendly. The relationship was strictly platonic due to Christian's marriage. When his wife died, Kimberly began to help Christian care for his son, Smith. As she grew closer to the family she and Vance developed a romantic relationship. She adores Smith and would do anything for the child. Kim met Hardin around 2018 when he worked for the company as an intern.
Film Series
[
]
Tessa emails Kimberly for information about an internship with Vance Publishing. Kim's email is shown to be "vanceassist@vancepublishing.com". A few days later, Tessa received an acceptance email from Kim and an invitation for an interview.
A month later, Tessa has been hired at Vance Publishing and makes her way to the company for her first official day. When she gets off the elevator, she is greeted by Kimberly who greets Tessa by her name, a large smile on her face. She is surprised that Tessa remembered her name and then greets Trevor, who chimes in that Tessa makes quite the impression. Kimberly is surprised that they know each other, and Trevor claims they're "old friends" before scurrying off. Kimberly shrugs it off and goes to introduce Tessa to Vance, only to hear him angrily yelling at a man on the phone. She decides this is a bad time and instead, shows the young intern to her new office which is initially cluttered with multiple boxes and objects.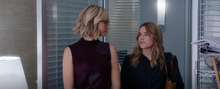 Kimberly explains that over the years the interns haven't lasted very long so the room became a storage of sorts. They usually don't keep interns long, since Vance typically fires them on their first day. She quickly claims that won't happen to Tessa, as she has a good feeling about her. She takes her plant from the desk and reminds Tessa that she has to read five manuscripts by the end of the week, and the ones she likes, she'll send to Kimberly. She adds that if Tessa needs anything to just ask.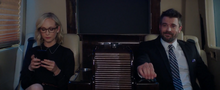 The next day, Kimberly, Vance, Trevor, and Tessa travel to Seattle to meet with Vance's potential new investor who they have to meet with and win over. They arrive at the hotel and Tessa is mesmerized, though Kimberly seems used to the lifestyle. Vance usually keeps his hand on her waist. He recommends that Kimberly take Tessa shopping for a dress for that night, to which Kimberly happily obliges.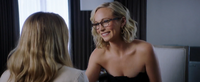 The pair return to the hotel late that evening to get ready, and Kimberly assures Tessa that she'll be fine in the nightclub - she's with the Vance's. She then nervously reveals that she and Vance are more than co-workers. She insists it was just a work thing at first, especially after Vance's wife died, but as she was helping take care of Vance's son, Smith, they fell in love. Tessa relates to love finding people in odd ways.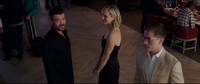 Vance, Kimberly, and Trevor wait for Tessa to join them in the lobby. When she does, Trevor comments that she cleans up nice, and Kimberly smiles noticing the affection that Trevor has for Tessa. Vance finds the comment amusing as Trevor "sure knows how to charm the ladies". He then tells Tessa she looks nice and, with his hand on Kimberly's back, leads the way to the nightclub. He and Kim dance together at the club while Neal socializes with Trevor and Tessa.
The next morning, Kim joins Trevor and Tessa in the hotel lobby with Vance trailing beside her. Kim is grateful for Trevor bringing latte's as she "feels like death". Vance delivers the good news that Neal wrote them a large check to help finance the expansion which makes her smile. He congratulates Tessa and Trevor on having done a good job as he leaves the lobby with his arm around Kim's shoulders.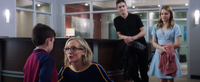 A few days later, Kim calls Tessa and tells her that Christian is home with the flu and she has a meeting that she can't reschedule. So there's no one to watch Smith for the afternoon, and asks Tessa if she would mind watching the boy. Tessa loves kids so she happily agrees and asks her boyfriend, Hardin, to participate in the babysitting. Kim is surprised that Hardin is willing to help, even asking what he's done with the real Hardin Scott. He claims that he's fine with it, but Tessa explains it's part of a birthday promise he made to her - she'll explain later. Kimberly thanks the couple for helping and tells Smith that Tessa will watch him, and that she will be back soon. She waves goodbye as she leaves.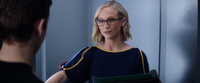 Kimberly returns that night to pick up Smith and relieve Hardin and Tessa. Kim and Smith are in the elevator when Hardin hands her a crate with the rest of Smith's toys. She tells him that Tessa is good for him, and he smiles asking if it's that obvious. He then kneels in front of Smith, saying goodbye which Kim smiles at just as the elevator doors close.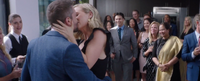 In January, Vance and Kim plan to leave for Seattle and host a going away party which they invite Hardin and Tessa to attend. Vance gives a toast thanking Kim for being supportive of his endeavors with the company. He states that earlier that week he was talking with Smith, who told him that going away parties are sad and he agreed so they came up with a way to turn the night into a celebration. He whispers into Smith's ear and the boy walks toward Kim who is across from them, and drops on one knee asking her to marry his dad and become his stepmom. Kim is elated and proclaims yes as she hugs the boy close. After a few moments, Vance jokingly asks where his hug is and she hurries over to give him a hug and kiss.
Physical Appearance
[
]
Kimberly is a beautiful young woman with a pale complexion, blue-green eyes, and chin-length blonde hair that is cut into a stylish bob. She wears her hair in a variety of different styles. She has a slim, toned, and athletic figure. She is tall standing at 5'8". She is always seen in professional or high-end clothing that shows her wealth and status in the world.
Personality
[
]
Kimberly is a friendly individual, welcoming Tessa to Vance Publishing with respect and a bright smile. She has a professional exterior but is a fun-loving person once people get close to her.
Relationships
[
]
Christian Vance: According to Kim, her and Christian's relationship started out strictly platonic. After Vance's wife died, Kimberly began caring for his son, Smith. While she did so, they fell in love and began dating. At a going away party in January, Christian decides to propose to Kim through Smith, who asked her to become his stepmom. An elated Kim says yes and tightly hugs Smith before happily kissing Vance.
Tessa Young - Tessa and Kim first met at Vance Publishing, where Kim is Tessa's boss. They bonded during their overnight trip to Seattle and became friendly afterward. Kim trusted Tessa enough to watch her future stepson, Smith.
Notes and Trivia
[
]
Kimberly's official Spotify playlist can be found here.
Gallery
[
]
References
[
]